ZIMMERMAN MN Home Builder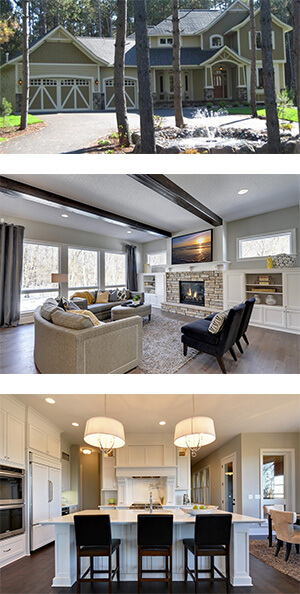 NIH Homes is proud to be building beautiful new custom homes in Zimmerman MN and we're happy that you're considering living here.  We thought you might like to know a bit more about this interesting and vibrant community.
History
The city of Zimmerman Minnesota is located in Sherburne County.  It is a mostly rural community. The main route to the city is US Highway 169.  Zimmerman is located 42 miles north-northwest of Minneapolis and 33 miles east-southeast of St. Cloud.
Originally Zimmerman was known as the Village of Lake Fremont and was incorporated in 1910.  It was only in 1967 that the name was changed to Zimmerman, an influential local farmer that promoted the notion of the Great Northern Railroad coming through the area.  The city is often described as the "Gateway to the Sherburne National Wildlife Refuge," it offers quite a panoramic view.  Zimmerman is known for a number of recreational activities such as camping, fishing, sailing, boating and cross-country snowmobiling and skiing.
Geography
According to the United States Census Bureau, the city has a total area of 3.56 square miles (9.22 km2); 3.42 square miles (8.86 km2) is land and 0.14 square miles (0.36 km2) is water.
Government
The city of Zimmerman follows the council-manager form of government with a mayor and 4 council members.
Schools
There are 3 schools located in the city. The oldest is Zimmerman Elementary School which recently celebrated its 50th anniversary in 2007. Another one is Westwood Elementary known as one of the most energy efficient schools in the US. The last is a combination of Middle/High school.
Churches
Zimmerman places of worship include the following:
St. John Lutheran Church
Zimmerman Community Church
The Crossing Church
Christ Our Light Catholic Parish
Christ Church
Business & Economy
The top 3 industries in the city are retail & wholesale trade, transportation & warehousing and travel, hospitality and tourism. The businesses offering the most jobs in Zimmerman, MN are Gordon Trucking, Dish, and Target.
Cost of Living
Zimmerman Cost Of Living Index
In the event that the cost of living data was unavailable for this city, estimates based upon nearby cities were used. Each cost of living index is based on a national average of 100. If the amount is below 100, it is lower than the national average. If the amount is above 100, it is higher than the national average.
Index
Zimmerman
Minnesota
National
Cost of living index
98
103
100
Index
Zimmerman
Minnesota
National
Goods & Services index
104
107
100
Groceries index
114
107
100
Health care index
114
108
100
Housing index
88
102
100
Transportation index
92
98
100
Utilities index
87
100
100
Summary
The cost of living in Zimmerman is 4% lower than the Minnesota average.
The cost of living in Zimmerman is 2% lower than the national average.
The cost of housing in Zimmerman is 12% lower than the national average.
Restaurants & Nightlife
Zimmerman Café Bar Bowl – serves the best burgers in the city. Burgers are made with fresh meat and not frozen.
Santa Lucia's Coffee & Cream – perfect place to have ice cream which is served in large servings.
China House – serves Chinese food take out. Food is made fresh and tastes amazing.
Angeno's Pizza/Zimmerman Bar & Grill – Great service, good atmosphere, sumptuous food.
Fun Things to Experience in Zimmerman MN
Ice Skating – the city offers two outdoor ice rinks which are intentionally flooded in the winter in order to make good ice. Rinks are open until the ice melts which is usually in mid-February.
Frisbee/Disc Golf Course – Zimmerman recently completed installation of an 18 hole Frisbee Golf Course located in Lion's Park. The course is playable for people of all ages.
Zimmerman is known also for boating, sailing and cross-country snowmobiling activities.
Zimmerman Minnesota truly is a great place to live.  If you'd like to talk to us about building your custom home here in Zimmerman, give us a call.  We can't wait to meet you.
NIH Homes is building in some of Minnesota's west & northwest metro's finest new home neighborhoods. Whether it is a sprawling acreage home site in the country or a picturesque, wooded lot among towering oaks in the city, NIH Homes will review the site with you and guide you in placing your home on your site while suggesting architectural elements and details that will compliment your surroundings.
Come visit one of our model homes and discover the advantage of building with NIH Homes.
See for yourself the delights of open entertaining spaces for sharing your life with others, relaxing and refreshing areas for de-stressing your life, generous storage spaces to keep your life organized, and flexible designs that meet your unique needs.
Want to learn more about the Minnesota communities NIH Homes builds in? Let Jeremy Skogquist give you insights into these beautiful, family-friendly community.