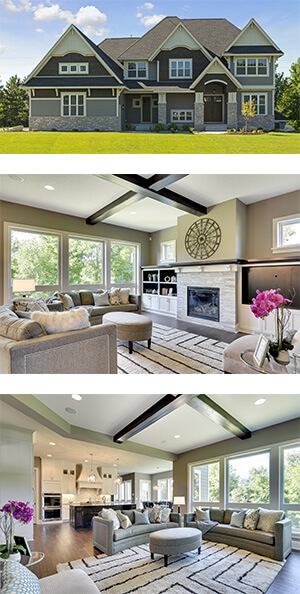 NIH Homes is proud to be building beautiful new custom homes in Medina MN and we're happy that you're considering living here. You can find our Medina community at:
736 Woodland Hills Ct
Medina, MN
55340
USA
We thought you might like to know a bit more about this interesting and vibrant community.
History
The city of Medina located in Hennepin County belongs to the section called "Big Woods" and is a vast area of hardwood forest, separated only by lakes, streams and marshes.  In 1853, the Traverse de Sioux Treaty opened the area for white settlers who were enamored with the large amount of timber as well as a vast land area for farming.
First settlers in Medina arrived in 1855. In 1858, County Commissioners provided the city with an official designation, as "Hamburg Township" but local residents preferred the name "Medina" after the Arab holy city of the same name, which was in the news that same year. On 11 May 1858, 37 residents met in the home of Valorius Chilson and voted unanimously to change the name.
Medina's early European settlers were chiefly German, Irish and French-Canadian and had names still common in Medina, like Scherer and Reiser; Mooney and Crowe; Hamel and Fortin. The first generations tended to group according to their language ties and to help each other through the long hard winters.
Townships were always divided into 36 sections, each consisting of a square mile. This meant that the City of Excelsior extended beyond the north shore of Lake Minnetonka to Medina's southern border. Excelsior's northern residents tolerated this inconvenience until 1868, when Excelsior's north shore residents voted to become a part of Medina. This expanded Medina to over 50 square miles.
The Hamel area of Medina was plotted as a City as early as 1879, but its efforts to incorporate failed, in part, because of the complication of straddling the borders of both Medina and Plymouth. The town might have been called Lenz after Leander Lenzen, who built a mill on Elm Creek and set up a post office in the name of Lenz in 1861. But, when the Lange Hamel family gave land to the railroad for the train depot in 1884 they asked that it be called "Hamel," and the name took root. To this day, people call this area of Medina, Hamel.
Geography
Based on data from the US Census Bureau, the city has a total area of 7.00 square miles (69.93 km2), of which 25.45 square miles (65.92 km2) is land and 1.55 square miles (4.01 km2) is water.  Minnesota State Highway 55 serves as a main route. Other routes include County Roads 19 and 24
Government
The city government is run by the City Council and presided over by the Mayor of the city.
Schools
There are 4 school districts located in the City. The schools are split between the Minneapolis Public School District, The Osseo Public School District, Robbinsdale and Bloomington respectively.
Churches
Woodridge Church
3 Rivers Church of Medina
Hope Bridge Church
Business & Economy
Here are the top employers in the city of Medina
Polaris Industries
Target
Hennepin County
Rockler
First Financial Merchant Services
Cost of Living
Medina cost of living index
Summary:
The cost of living in Medina is 42% higher than the Minnesota average.
The cost of living in Medina is 46% higher than the national average.
The cost of housing in Medina is 141% higher than the national average.
Restaurants & Nightlife
Peg's Countryside Café – serves amazing omelette dish that is cooked to perfection
Oak Eatery – quiet area to relax and enjoy sandwiches, salads and soups.
Jimmy's Pizza – family pizza place, where people know everyone including the owner by name.
Robert's – very unassuming place attached to a bowling alley but serves a wide range of menu options.
Countryside Café – small diner that offers great food and service
Fun Things to Experience in Medina MN
Golf
Visit the Baker National golf course for a good round of fun with friends and family. The course is well kept, picturesque and quite challenging for a public golf course. Located in the heart of the Baker Park Reserve, this 210-acre golf course features practice areas, a driving range, the 9-hole Evergreen Executive Course, and the nationally recognized 18-hole Baker National Championship Course. There is also a lot of teaching and junior golf played at the facility.
Gift Shopping
Art 2 Heart is one of the most popular places in the city to purchase unique gift items.  The proceeds go to a variety of causes.  They offer gifts ranging from baby items to unique giveaways that grandma would surely enjoy. They stock merchandise ranging from funky wire art to statement art hand made in Haiti from oil drums and everything in between
Trails
The city offers a trail system that features a combination of city, county, regional and private trails to enjoy nature. County trails are located along CR 24 and CR 19 and also include an extensive multi-use trail system within the Morris T. Baker Regional Park Reserve.
Medina Minnesota indeed is truly a great place to live.  If you'd like to talk to us about building your custom home here in Medina give us a call.  We can't wait to meet you.
NIH Homes is building in some of Minnesota's west & northwest metro's finest new home neighborhoods. Whether it is a sprawling acreage home site in the country or a picturesque, wooded lot among towering oaks in the city, NIH Homes will review the site with you and guide you in placing your home on your site while suggesting architectural elements and details that will compliment your surroundings.
Come visit one of our model homes and discover the advantage of building with NIH Homes.
See for yourself the delights of open entertaining spaces for sharing your life with others, relaxing and refreshing areas for de-stressing your life, generous storage spaces to keep your life organized, and flexible designs that meet your unique needs.
Want to learn more about the Minnesota communities NIH Homes builds in? Let Jeremy Skogquist give you insights into these beautiful, family-friendly community.