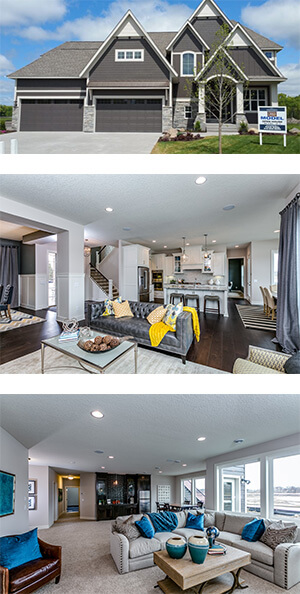 NIH Homes is proud to be building beautiful custom homes in Blaine Minnesota and we're happy that you're considering living here. You can find our Blaine community at:
3067 131ST CT NE
Blaine, MN
55449
USA
We thought you might like to know a bit more about this interesting and exciting community.
History
The city of Blaine is located in Anoka County in Minnesota and is part of the Minneapolis-Saint Paul metropolitan area.  The 3 main routes in the city are Interstate Highway 35W, US Highway 10 and Minnesota State Highway 65.
Blaine was previously a part of the city of Anoka up until 1877.  The first settler in Blaine was Philip Lady who lived near a lake which is now named after him, Laddie Lake.  However, he died shortly upon arriving and his relatives moved to Minneapolis.
It was not until 1865 that Blaine saw its first permanent resident by the name of Green Chambers, a former slave who moved from Barren County, Kentucky after the Civil War.  In 1870, George Wall, Joseph Gagner and others settled and the town grew.
1877 was the year that Blaine separated itself from Anoka and established a township of its own. It was at that time that Moses Ripley the first elected chairman of the Board of Supervisors persuaded the other board members to rename the new township in honor of James Blaine, a Republican senator and Speaker of the US House of Representatives. By 1880, the population of the fledgling township grew to 128.
Blaine's sandy soil and rich wetlands discouraged farming and made the area more a prime hunting area than anything else.  Blaine's slow development ceased after World War 2 upon the introduction of starter developments in the southern part of the city which converted it to a more suburban area than rural.
The population grew from 1,694 in 1950 to 20,573 in 1970 to over 57,000 in 2010. For several years Blaine led the Twin Cities metro region in new home construction.  The development of the city is attributed to the creation of Interstate Highway 35, US Highway 10 and Minnesota Highway 64 which increased access to the Twin Cities making it a prime location for residential and business development.  Moreover, the opening of sand mines created thousands of acres of peat sod farms up for development.
Starting with the development of the Knoll Creek, Club West, Pleasure Creek and TPC Twin Cities, the existing land was modified through extensive grading efforts with the result in the large open water areas. The sand from the excavation of those ponds was used to raise the level of the site. These site modifications are needed to accommodate the development of the homes and neighborhoods. The success of mining sand aided in creating ponds/lakes and allowed for further development in the city. The Center piece of those developments is The Lake of Blaine, taking over 1000 acres peat and sod farms and creating 158 acre Sunrise Lake and million dollar homes and other high end housing opportunities not seen in the city before. Corporate residents include the Aveda Corporation, Magnet Street, parking lot portion of a Medtronic Development, and Dayton Rogers Manufacturing.
Blaine is also home to the 600-acre (2.4 km2) National Sports Center featuring 50 soccer fields, a golf course, a velodrome, and the Schwan Super Rink, containing 4 Olympic and 4 regulation ice rinks in one building. Further development is occurring now that will bring another 20 fields for multiple uses including Lacrosse, Ultimate Frisbee, Soccer and a host of other activities.
Geography
Based on data from the US Census Bureau, the city possesses a total area of 34.05 square miles (88.19 km2), of which 33.85 square miles (87.67 km2) is land and 0.20 square miles (0.52 km2) is water. Blaine is 13 miles (21 km) from Minneapolis and 20 miles (30 km) from St. Paul.
Government
Blaine's government is comprised of elected representatives of the people, City Council Members. This body is composed of six people and the Mayor of the city.
Schools
There are 3 main schools located within the city, Blaine High School which is home to the Bengals and is located in the Anoka-Hennepin District, Centennial High School home to the Cougars and Paladin Career and Technical High School a public charter school.
Blaine is also where Globe University/Minnesota School of Business is located and is known as a nationally accredited college that offers masters, bachelor's and associate degree programs in IT and business, health and legal sciences.
Blaine is also the home of Rasmussen College, a private school offering different courses to residents.
Churches
Here are some of the places of worship in Blaine MN
Chain of Lakes Church
Abundant Life Community Church
Apostolic Lutheran Church
Blaine Baptist Church
Blaine United Methodist Church
Bridgewood Community Church
Christ Lutheran Church
Cornerstone Church of Blaine
Business & Economy
Based on a 2009 Comprehensive Annual Financial Report, here is the list of the top employers in the city:
Cost of Living
| | | |
| --- | --- | --- |
|   COST OF LIVING | Blaine, Minnesota | United States |
|   Overall | 106 | 100 |
|   Grocery | 104.1 | 100 |
|   Health | 101 | 100 |
|   Housing | 106 | 100 |
|   Utilities | 100 | 100 |
|   Transportation | 104 | 100 |
|   Miscellaneous | 111 | 100 |
Summary:
The cost of living in Blaine is 5% higher than the Minnesota average.
The cost of living in Blaine is 7% higher than the national average.
The cost of housing in Blaine is 13% higher than the national average.
Restaurants & Nightlife
The Tavern Grill – offers great food and beautiful ambience, one of the most respected restaurants in the city.
Hajime – offers great sushi and value for money.
Old Piper Inn – amazing lunch place, amazing service and food.
Clive's Roadhouse – Good food, superb ambience and very friendly staff.
Kintaro Japanese Sushi and Steakhouse – good variety in meals and excellent sushi.
Bricks Kitchen and Pub – serves amazing fries, good variety in beer choices.
Fun Things to Experience in Blaine MN
Ice Skating
Visit the Schwan Super Rink, which is located within the National Sports Center. The rink comprises an area of 148,000 square feet, has 32 locker rooms and a pro shop.  The arena also boasts of a climate-controlled café that overlooks four of the rinks.
Boating
Visit Lakeside Commons Park while in Blaine MN.  This is a park that also offers a public beach, volleyball court and playground for the kids. It also features an open play field as well as a shallow splash pad for young kids to play in.  You could rent a kayak or even a canoe at the boathouse.
Golfing
The National Sports Center houses the Victory Link Golf Course, which is an 18-hole links-style course that covers about 400 acres of ground, and Tournament Greens.
Blaine Minnesota indeed is truly a great place to live.  If you'd like to talk to us about building your custom home here in Blaine give us a call.  We can't wait to meet you.
NIH Homes is building in some of Minnesota's west & northwest metro's finest new home neighborhoods. Whether it is a sprawling acreage home site in the country or a picturesque, wooded lot among towering oaks in the city, NIH Homes will review the site with you and guide you in placing your home on your site while suggesting architectural elements and details that will compliment your surroundings.
Come visit one of our model homes and discover the advantage of building with NIH Homes.
See for yourself the delights of open entertaining spaces for sharing your life with others, relaxing and refreshing areas for de-stressing your life, generous storage spaces to keep your life organized, and flexible designs that meet your unique needs.
Want to learn more about the Minnesota communities NIH Homes builds in? Let Jeremy Skogquist give you insights into these beautiful, family-friendly community.