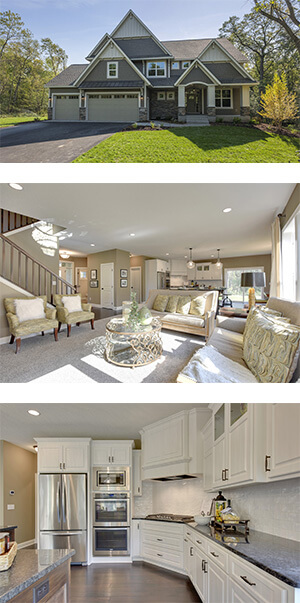 NIH Homes is proud to be building beautiful new custom homes in Big Lake MN and we're happy that you're considering living here. You can find our Big Lake community at:
21535 183RD ST NW
Big Lake, MN
55309
USA
We thought you might like to know a bit more about this interesting and vibrant community.
History
The City of Big Lake was originally called Humboldt until 1867 when it got its current name.   It is a rapidly growing community in Sherbourne County, Minnesota along the banks of Big Lake and Mitchell Lake.   The city was incorporated on Dec. 27, 1898.
Geography
Based on data from the US Census Bureau, the city offers a total area of 2.92 square miles (7.56 km2); 2.11 square miles (5.46 km2) is land and 0.81 square miles (2.10 km2) is water.  A portion of the city lies along the Elk River.
Located about 40 miles northwest of the Twin Cities, Big Lake was once a popular location for escapes from the city, its lakes filled with summer cabins. Now it is considered an exurb of the metro area, with a significant portion of residents commuting into the Cities daily.
The lake for which the town is named was once an important part of the Twin Cities economy, as in the days before modern refrigerators, much of the ice for metropolitan iceboxes was harvested from Big Lake.
Big Lake is currently the northernmost terminus of the Northstar Commuter Rail line connecting the northwest suburbs and downtown Minneapolis; there are plans for the line to be extended to St. Cloud by 2015.
Currently, commuters can use the Northstar Link Commuter Bus to reach St. Cloud, MN.
Government
The Big Lake community is run by the City Council with the Mayor as the presiding officer.
Schools
Big Lake High School is part of the Big Lake Public School District 727. It features 22 classrooms and can host a capacity of 1,100 students.  The school offers 117 courses in 14 different departments.  Also offers online foreign language courses in Spanish, French and German.
Churches
Here are some of the place of worship in Big Lake MN
Riverside Church
Bridgeview Assembly of God Church
Community Covenant Church
Bethany Bible Church
Mary of The Visitation
St. Matthews Lutheran Church
Hope Lutheran Church
Business & Economy
Here are some of the notable businesses in Big Lake MN
Big Lake "Do It Best" Lumber
Discount Mattress & Furniture
Fudgin' Delicious Ice Cream & Hom Decor
Glance Back Vintage & Treasures (open Thursdays, Fridays & Saturdays)
Cost of Living
In the event that the cost of living data was unavailable for this city, estimates based upon nearby cities were used. Each cost of living index is based on a national average of 100. If the amount is below 100, it is lower than the national average. If the amount is above 100, it is higher than the national average.
| | | | |
| --- | --- | --- | --- |
| Index | Big Lake | Minnesota | National |
| Cost of living | 101 | 103 | 100 |
| Index | Big Lake | Minnesota | National |
| Goods & Services | 104 | 107 | 100 |
| Groceries | 114 | 107 | 100 |
| Health care | 114 | 108 | 100 |
| Housing | 97 | 102 | 100 |
| Transportation | 92 | 98 | 100 |
| Utilities | 89 | 87 | 100 |
Summary:
The cost of living in Big Lake is 2% lower than the Minnesota average.
The cost of living in Big Lake is 1% higher than the national average.
The cost of housing in Big Lake is 3% lower than the national average.
Restaurants & Nightlife
Racks Sports Bar & Grill – great place to eat burgers and beer.
Pizza Factory – offers great pizza and service
Russell's On the Lake – superb salad bar, best prime rib in the area.
Fresh Flame Burger – friendly owner, great food.
The Third Rail Bar and Grill – Superb food at good prices, great sports bar with many TV screens to enjoy the game.
No. 1 China – offers delectable Chinese cuisine, great portions at an affordable price.
Fun Things to Experience in Big Lake MN
Parks and Trails
There are over 215 acres of parkland, 20 miles of trail for hiking and 3.5 acres of greenway located in Big Lake.  The Big Lake Park system has parks and playgrounds, picnic areas and ball fields.
Boating
Enjoy the beauty of Big Lake anytime with a canoe or a chartered boat along the Lakeside Pier
Legacy Foundation of Big Lake – provides a lot of events yearly, most notable is the Music in the Park.
Sand Dunes State Forest — is located in central Sherburne County, about three miles west of Zimmerman and 5 miles north of Big Lake. Consists of oak savanna forest and prairie and 2,700 acres of pine plantation on rolling terrain. It provides beautiful areas for many recreational activities, such as horseback riding, snowmobiling, snowshoeing, hunting, and swimming, panfishing on Ann Lake, camping and hiking.
Big Lake Minnesota truly is a great place to live.  If you'd like to talk to us about building your custom home here in Big Lake, give us a call.  We can't wait to meet you.
NIH Homes is building in some of Minnesota's west & northwest metro's finest new home neighborhoods. Whether it is a sprawling acreage home site in the country or a picturesque, wooded lot among towering oaks in the city, NIH Homes will review the site with you and guide you in placing your home on your site while suggesting architectural elements and details that will compliment your surroundings.
Come visit one of our model homes and discover the advantage of building with NIH Homes.
See for yourself the delights of open entertaining spaces for sharing your life with others, relaxing and refreshing areas for de-stressing your life, generous storage spaces to keep your life organized, and flexible designs that meet your unique needs.
Want to learn more about the Minnesota communities NIH Homes builds in? Let Jeremy Skogquist give you insights into these beautiful, family-friendly community.